How To Datalog With TunerPro RT
This website is here to encourage you to tune on your own. This page may also be used to learn how TunerPro RT functions, and to create a datalog to e-mail me for my help too. As you will see, using TunerPro RT for datalogging is a powerful tool. You may use it for free but should pay the small registration fee of $39 if you benefit from it. First you need to download it. I am new to this software and would appreciate any comments that can make this page better.
When you first get your Moates cable look at the block your cable plugs into and note the switch. If you have a mass air car you want to enable the 10k resistor. If you are speed density you want this switch set to open.
Hopefully you've bought your cable from Moates.net which has been linked on this site (less trouble). In the comfort of your home, plug the cable into your PC laptop to a USB 2.0 port. At this point a screen should pop up saying Windows has found new hardware and if the correct driver was found you may proceed below.
If you can't communicate with the ECM you may need to update your USB driver (make sure you are plugged into a USB 2.0 port). The Driver can be found here. After you download the driver look to the right under comments and download the Setup Executable and run it.
From the Tools menu choose Preferences and click on Dat Acq / Emulation tab and then Configure Plug in Component on the left. Port type is standard serial for the cable and choose any Com port in black that is not 1.
In the Configure plug in Component on the right make sure both boxes are unchecked. For more cable connectivity issues see this Moates page.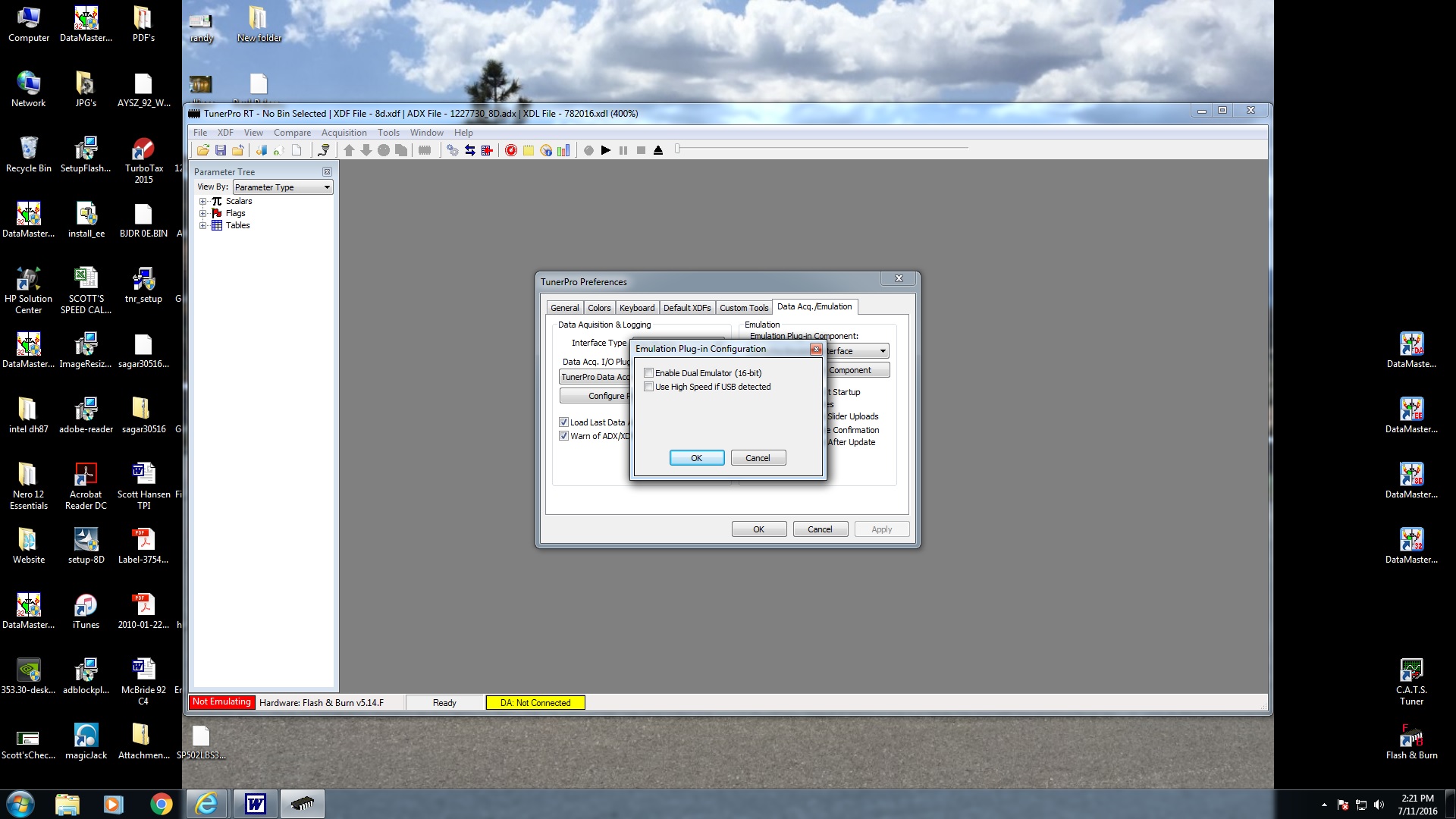 You need to download a definition .adx for Datalogging (recording) and they're different whether Speed Density (MAP) or Mass Air Flow (MAF). Right Click and Choose "Save Target As". Make sure you save it to a place where you can find it later.
Should you wish to perform bin modification using TunerPro RT I've included links to the required xdf files. This won't be needed if I'm performing your tuning.
From the Acquisition menu choose Load Definition File and load your adx.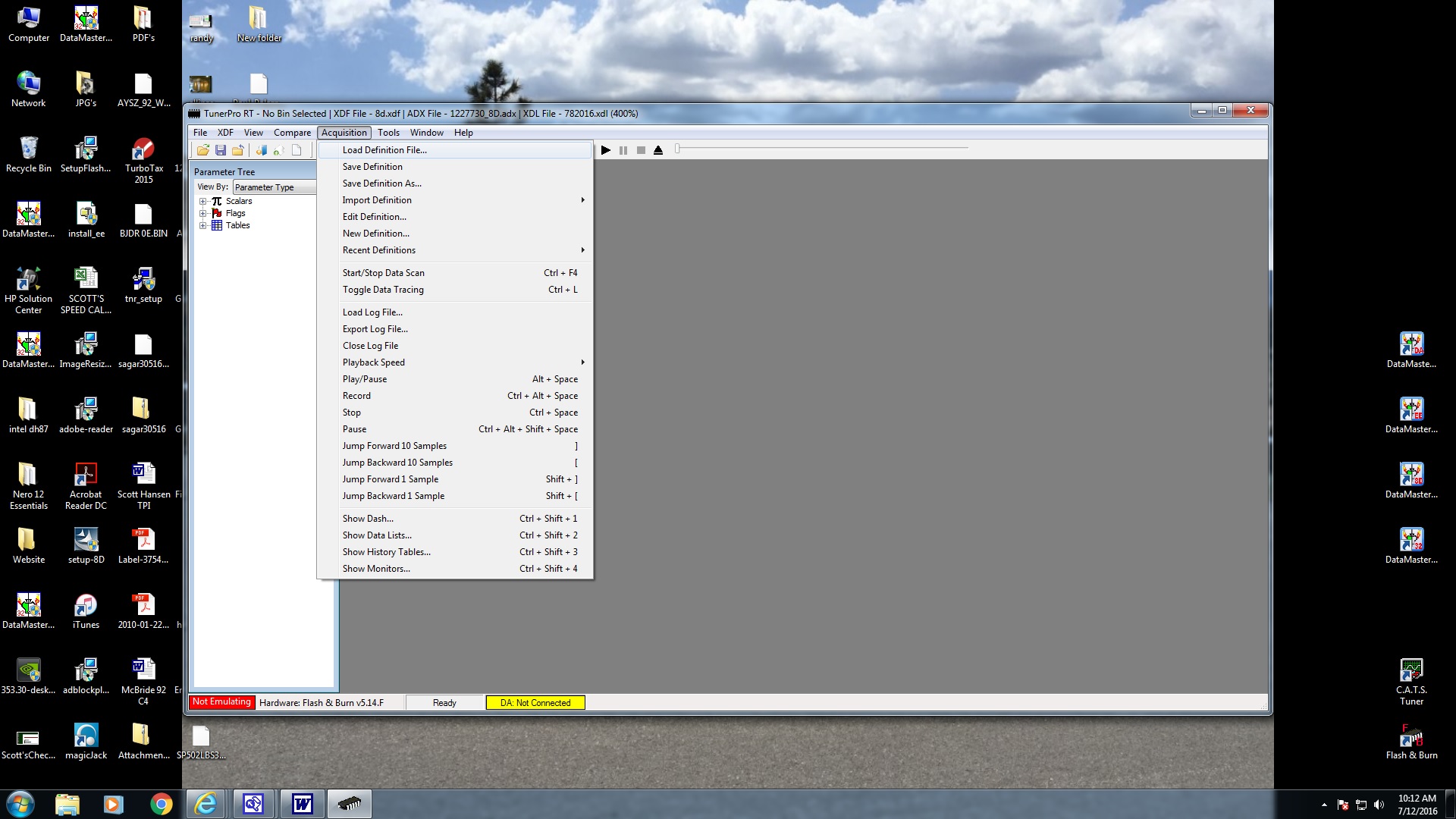 It is now time to initialize TunerPro RT. From the Acquisition Menu choose Start/Stop Data Scan. Your engine should be running prior to this.
From the same Acquisition Menu choose Record. You're now recording data so take it out and drive the vehicle. Remember, if you don't drive it there it can't be tuned. In the beginning just do some normal driving and no more than 5 miles and let it idle at the end. You may only make a minor adjustment like injector flowrate at the start.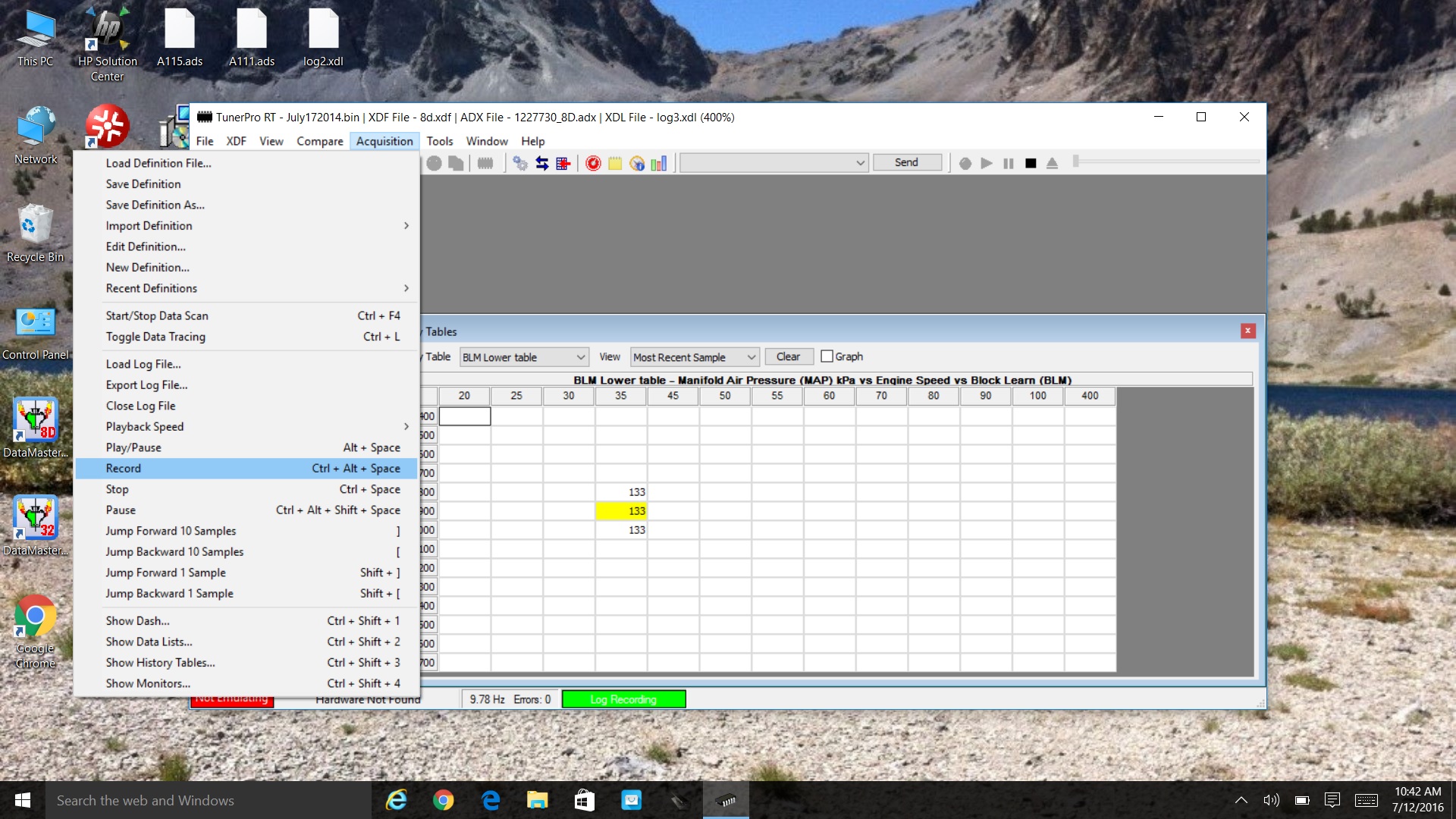 Once you are done and before shutting off the engine. From the Acquisitions Menu choose Stop.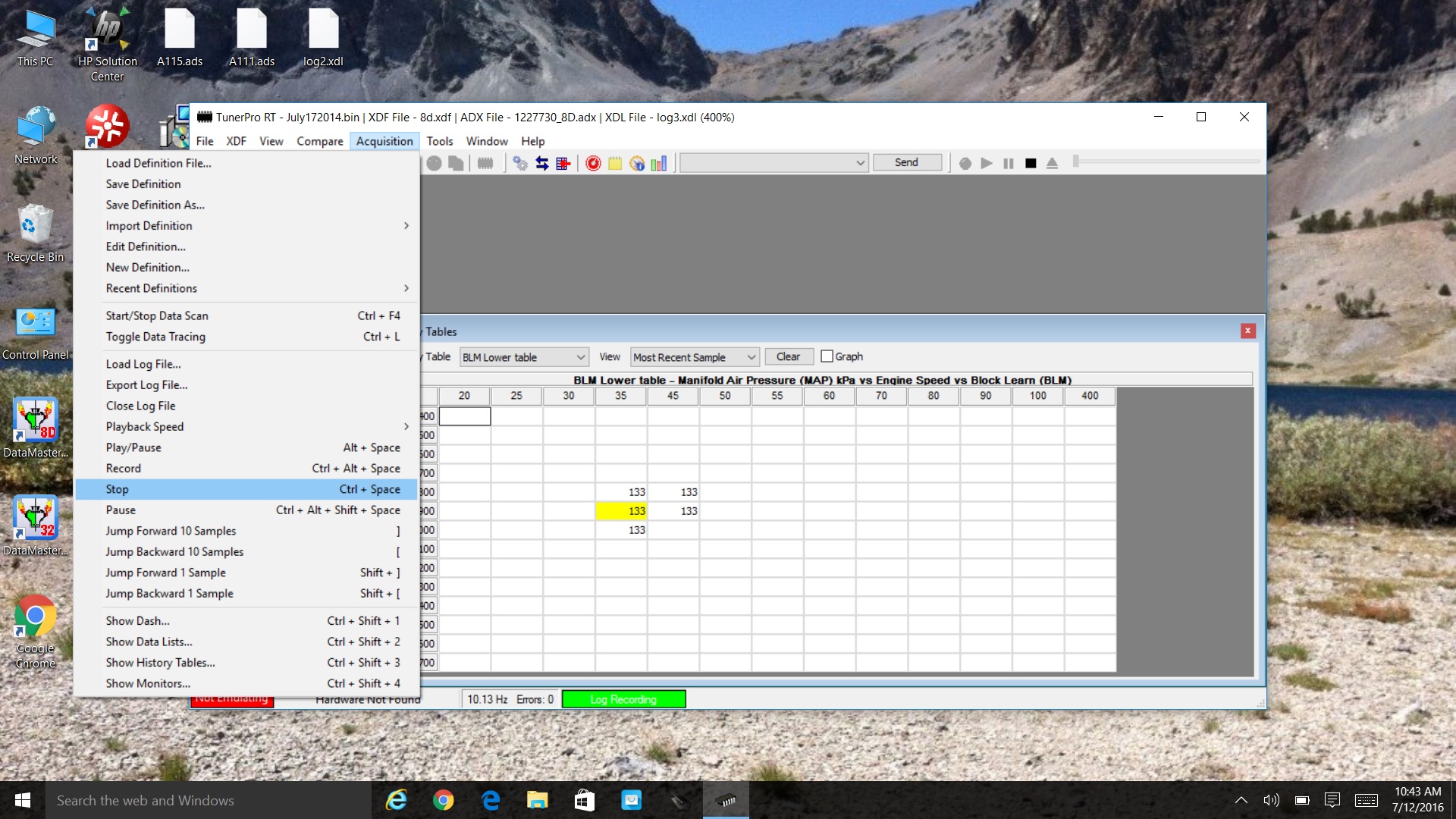 TunerPro RT will now prompt you to save your Datalog and naming your file. Make sure to note where you are saving it to so you can find it.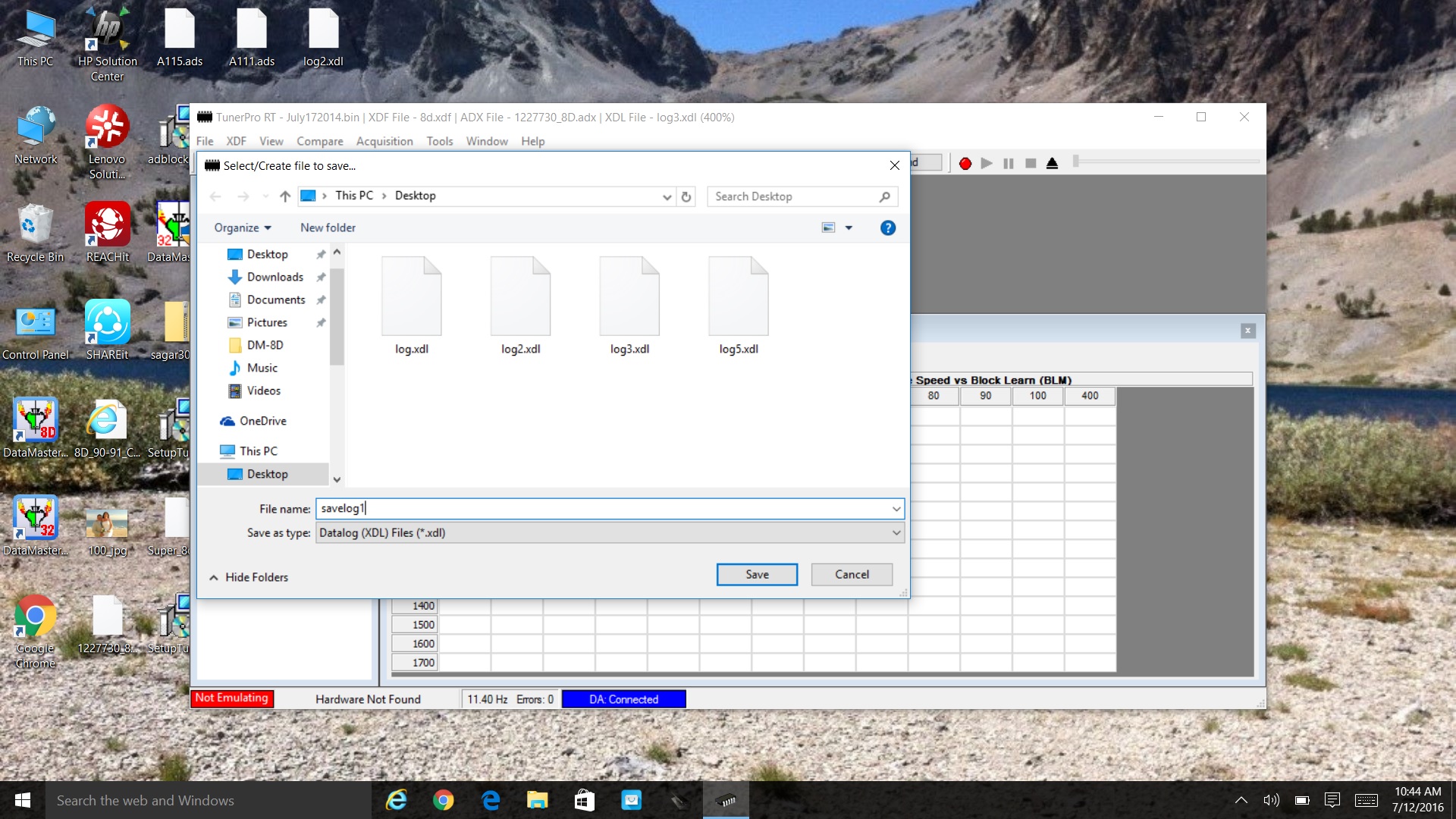 To load your file into TunerPro RT you click on the Arrow Up button. With the Histogram open showing a Running Average the cells begin to populate.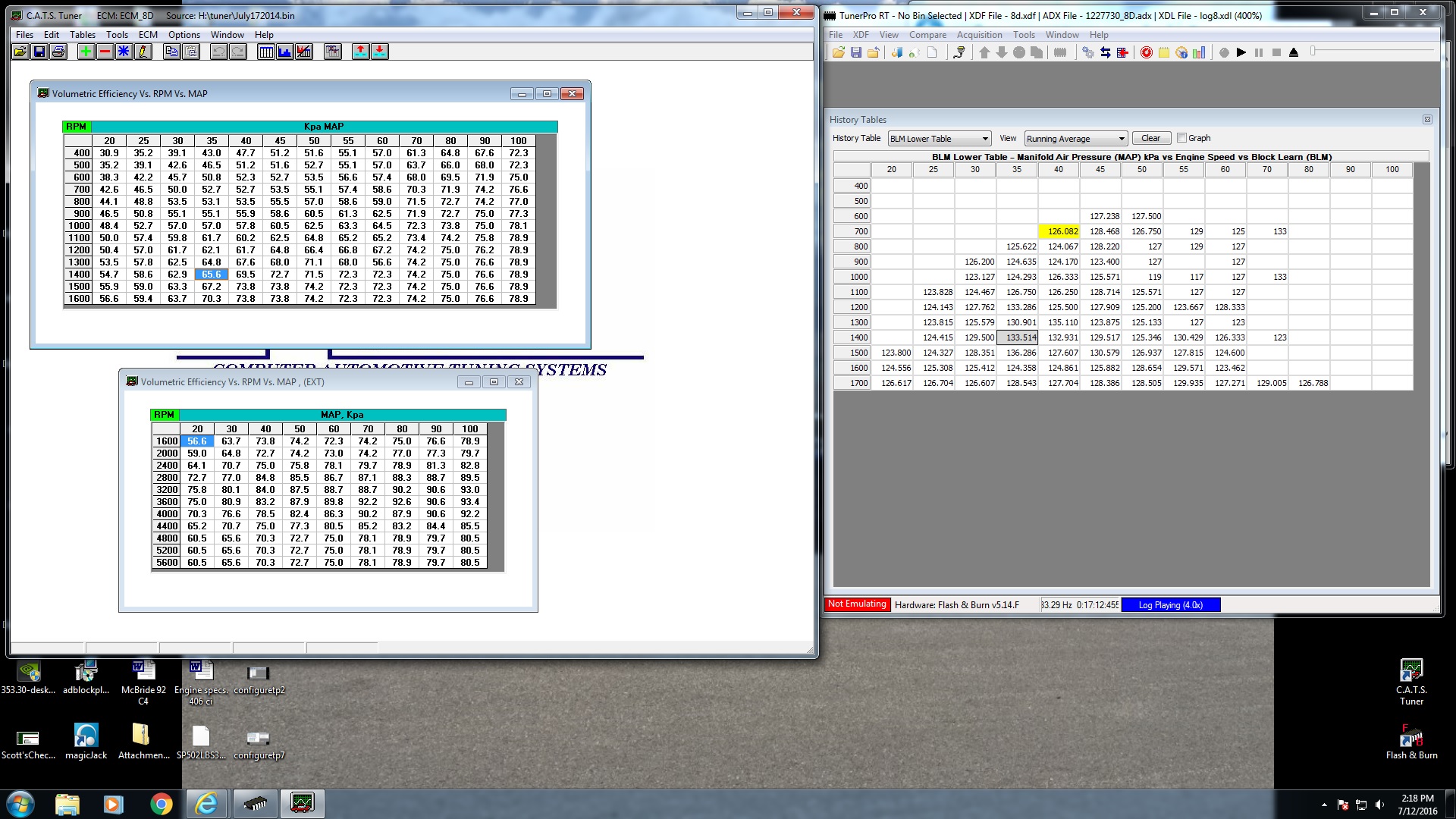 As you can see this is my bin loaded into TunerCat. Looks like I'm a little lean at 1400 RPM at 35 KPA so I take 133.514 / 128 = 1.0430781 x 65.6 shown in TC and my new VE value is 68.5. If it is lean I use 128 and if it is rich I use 124. This way I get all my values between 124 and 128. The exception would be WOT where I work it strictly to 128.

Copyright © 2019 Scott Hansen